Name :
Al Magwa engineering & Cont.
Managing Director :
Jaseem AlMajed
CEO:
Aisha AlMajed
Capital :
Paid up Capital of 7,500,000 Kuwaiti Dinars. (7.5 Million K.D.)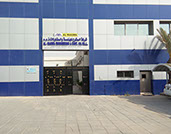 About us
Al magwa Engineering & Contracting.co.w.l.l. was established in the year 1973 the company was setup originally to carry out the trading and contracting business in refrigeration and air-conditioning. Of late Al Magwa has transformed as a reputed prime Electro-Mechanical contractor / subcontractor in kuwait on high value projects with an emphasis on the "Design-Build-Maintain" projects with scope for total engineering solutions and value added engineering services.
The strength of Al Magwa comes with its highly skilled,trained manpower and its substantial investments in workshops, machine shops and duct shops with full range of high quality movable/immovable and suport systems.
Al Magwa Company is registered in the Ministry of Trade & Industry and approved contractor in central Tenders Committee-Kuwait, for Refrigeration and Air-Conditioning Category 2, Electrical category 3, Fire Fighting category 4 , Communication category 1, Approved Categories in KOC for the Electro Mechanical Works :3,4B,9A,9B.
Health Safety
Al magwa management and staff recognize and follow safety regulations with utmost care. Our Ethos :
Recognize every manager,employee has the duty and responsibility for safety.
Enhance safety consciousness and knowledge through continuous education and training.
Approach and avoid all possibilities of accidents and take all precautionary measures against such accidents.
Ensure hazard free and clean environment.
Zero defect work-area and zero accident.

Environmental Care
While we are committed to deliver top class engineering through our projects .We also give top priority for preservation of healthy environment and safety standards. We try to improve the work place and environment through noise reduction methods, prevention of pollution and elimination of waste. Over the years our work can have a significant impact upon your comfort,welfare and safety as well as energy conservation significantly.
Healthy working conditions.
Energy Conservation.
Noise level Control.